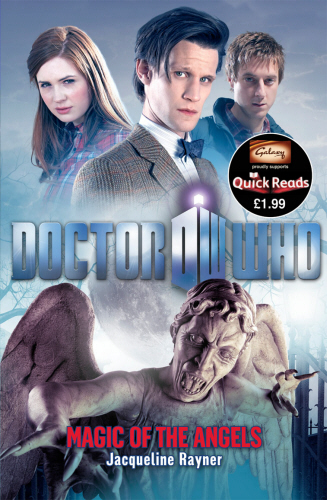 'Magic of the Angels' is a 2012 Quick Read Doctor Who novella.
Set during present day it follows the Doctor, Amy and Rory as they take a break from fighting aliens and exploring other times and places to have a quiet day in London.
Having been thrown out of several establishments due to the Doctor's misbehaviour the trio decide to head to the theatre.
On their way to the theatre the three of them notice an unusually large amount of pissing person's flyers, all of girls aged around twenty.
At the theatre they watch a show by an up and coming magician Sammy Star, however, things take a turn for the sinister during the grand finale when the Doctor, Amy and Rory realise that the way Sammy Star makes his assistant disappear is with a little bit of help from a Weeping Angel.
'Magic of the Angels' clocks in at 110 pages, and is easily read in one sitting.
Filled with fast moving scenes and quick and easy descriptions the book doesn't take any tie to set the mood or build upon the characters.
Instead this short story focuses purely on the story, moving along at a nice brisk pace to its conclusion.
Despite this it still finds the time to give you some nice character moments, allowing the scenes between Rory and the victims f the Weeping Angel to feel quite genuine and fairly moving.