This week it was announced that Geoff Johns was to leave his epic run on Green Lantern after nine amazing years.
Johns has turned Green Lantern around over these last nine years, taking what many would class as a second string character and made the series into one of the most popular books in comics.
With four spin-off books, a motion picture, video games and television series Green Lantern has grown to epic proportions and owes its success to Geoff Johns.
Johns first began his career in comics and DC when he pitched the idea for Stars and S.T.R.I.P.E., a book based on the second Star-Spangled Kid (later renames Star-Girl) and her stepfather.
The success of Stars and S.T.R.I.P.E. led to him being offered the opportunity to co-write JSA, a run that would go on for a number of years and receive critical acclaim.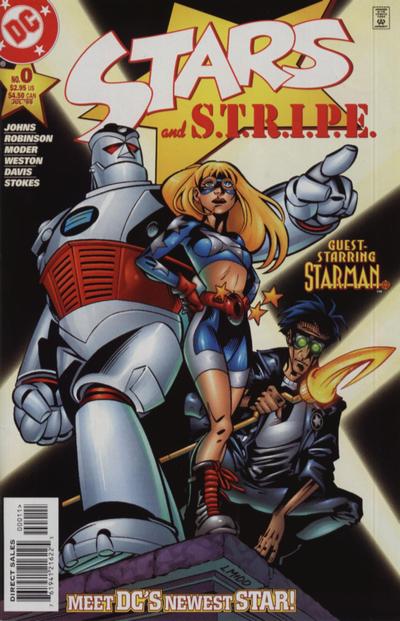 Johns' first work with DC, the introduction of Star Girl.
From there Johns went on to work on a number of major comic book characters, including Teen Titans, The Flash and even The Avengers over at Marvel.
However, despite how well received and successful his time on these other titles none of them had the impact quite like his time on Green Lantern.
It is important to remember that before Johns came onto the book Hal Jordan had been dead for a number of years and remembered for being a murderous villain, John Stewart had only just returned to being a Green Lantern after spending a number of years crippled and away from heroics, Guy Gardner was now a shape shifter and Kyle Rayner having exiled himself into space.
Hal Jordan as the hated villain Parallax.
The Green Lantern universe was in a sorry state, but then Johns produces Green Lantern Rebirth and changes the face of DC and Green Lantern forever.
Not only does he return our beloved characters to their Green Lantern status but he also manages a task many would have believed impossible, he redeemed Hal Jordan.
Over the coming parts I will take a closer look at the story arcs Johns has worked on during his time on Green Lantern, the various spin off books it has produced as well as the effect it has had on other media such as film and television and how he has transformed Green Lantern into one of the most popular comic book characters of our time.
The Green Lantern Corps.